Superlink@Technion helps geneticists all over the world find disease-provoking genes causing some types of diabetes, hypertension (high blood pressure), cancer, schizophrenia and many others.
Superlink@technion project URL; http://cbl-boinc-server2.cs.technion.ac.il/superlinkattechnion/
About Superlink@technion
Superlink@Technion helps geneticists perform genetic linkage analysis, which is a statistical method used to associate functionality of genes with their location on chromosomes. It typically serves for detecting mutated disease-provoking genes. This analysis can be extremely computationally intensive and has been parallelized for simultaneous execution on many computers. Geneticists submit the data for the analysis via Superlink-online linkage analysis portal. The tasks are then automatically parallelized and scheduled for execution on many computers in the Technion, in the University of Wisconsin in Madison, and also on many computers all over the world.
Your computer can help geneticists perform their analysis faster! The program that will perform the actual computations is called Superlink. It is a well known genetic linkage analysis program developed here in the Computational Biology Laboratory, University of Technion, Haifa, Israel.
About SUPERLINK 
Genetic linkage analysis is a statistical method that is used to associate functionality of genes to their location on chromosomes.  The main idea is that markers which are found in the same vicinity on the chromosome have a tendency to stick together when passed on to off springs.  Thus, if some disease is often passed to off springs along with specific markers, then it can be concluded that the gene(s) which are responsible for the disease are located close on the chromosome to these markers. 
Superlink is a computer program that performs exact genetic linkage analysis with input-output relationships similar to those in standard genetic linkage programs like Linkage, Fastlink v4.1, Tlinkage, Vitesse v2.0, and Genehunter v2.1.  Superlink can run larger files than previous programs. 
Features of Superlink
Analysis of general pedigrees (many individuals, inbreeding loops, many markers, etc.).
Analysis of two-locus traits.
Analysis of autosomal or sex-linked traits.
Maximum-likelihood Haplotyping analysis.
Analysis of complex traits.
Genetic Linkage Analysis
Genetic linkage occurs when particular genetic loci or alleles for genes are inherited jointly. Genetic loci on the same chromosome are physically connected and tend to segregate together during meiosis, and are thus genetically linked. Alleles for genes on different chromosomes are usually not linked, due to independent assortment of chromosomes during meiosis.
Because there is some crossing over of DNA when the chromosomes segregate, alleles on the same chromosome can be separated and go to different daughter cells. There is a greater probability of this happening if the alleles are far apart on the chromosome, as it is more likely that a cross-over will occur between them.
The relative distance between two genes can be calculated using the offspring of an organism showing two linked genetic traits, and finding the percentage of the offspring where the two traits do not run together. The higher the percentage of descendants that does not show both traits, the further apart on the chromosome they are.
Independent assortment in chromosomes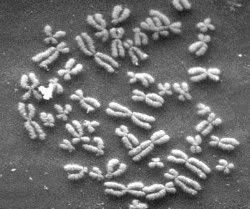 Among individuals of an experimental population or species, some phenotypes or traits occur randomly with respect to one another in a manner known as independent assortment. Today scientists understand that independent assortment occurs when the genes affecting the phenotypes are found on different chromosomes or separated by a great enough distance on the same chromosome that recombination occurs at least half of the time.
An exception to independent assortment develops when genes appear near one another on the same chromosome. When genes occur on the same chromosome, they are usually inherited as a single unit. Genes inherited in this way are said to be linked, and are referred to as "linkage groups." For example, in fruit flies the genes affecting eye color and wing length are inherited together because they appear on the same chromosome.
Unexpected crossing over variations
But in many cases, even genes on the same chromosome that are inherited together produce offspring with unexpected allele combinations. This results from a process called crossing over. At the beginning of normal meiosis, a chromosome pair (made up of a chromosome from the mother and a chromosome from the father) intertwine and exchange sections or fragments of chromosome. The pair then breaks apart to form two chromosomes with a new combination of genes that differs from the combination supplied by the parents. Through this process of recombining genes, organisms can produce offspring with new combinations of maternal and paternal traits that may contribute to or enhance survival.
Genetic linkage was first discovered by the British geneticists William Bateson and Reginald Punnett shortly after Mendel's laws were rediscovered. Read more about Genetic linkage here.
Video about genetics and inheritance
This documentary shows that biology stands on the brink of a shift in the understanding of inheritance. The discovery of epigenetics, hidden influences upon the genes, could affect every aspect of our lives. At the heart of this new field is a simple but contentious idea, that genes have a 'memory'. That the lives of your grandparents, the air they breathed, the food they ate, even the things they saw, can directly affect you, decades later, despite your never experiencing these things yourself. And what you do in your lifetime, could in turn affect your grandchildren.