The SZTAKI Desktop Grid project recently released an exciting new application called "UC-Explorer". The goal of the UC-Explorer application is to understand basic universality classes of nonequilibrium systems.
What are universality classes and why is it important to study them?
Universality classes occur very frequently in complex systems exhibiting many degrees of freedom.
There are many problems like economic crisis, human segregation, extinction of populations or climate change where the theory of nonequilibrium systems could help in solving these problems. When the correlations in an event diverge, for example near a critical point in an event, fluctuations tend to dominate. like in the case of a
Author - Géza Ódor - Scientific Advisor to Complex Systems Group, MFA - Hungarian Academy of Sciences
financial/economic collapse or a changing climate, the microscopic details or interactions become irrelevant.
In such situations scaling behavior with universal exponents and scaling functions appear. In equilibrium these classes are determined by the spatial dimensions, symmetries and conservations laws. In the more frequent, nonequilibrium system these factors are poorly understood. For exploring and predicting the scaling behavior of critical systems we must understand the most fundamental models. These are usually a simple system of particles which can diffuse and react on contact. Other nonequilibrium system (like surface growth or spin models) can be mapped onto them.
You can help by simply running a piece of software!
Universality@home is a distributed computing project running within the SZTAKI Desktop Grid BOINC project. Volunteers around the world download and run the BOINC software to make one of the largest supercomputers in the world. Every computer attached to the project brings us closer to our goals. Universality@home uses the UC-Explorer application's novel computational methods to simulate problems millions of times more challenging than previously achieved.
Exploring universality classes of nonequilibrium statistical physics
Nonequilibrium critical phase model of an Epidemic spreading
The aim of this study is to help understand the basic universality classes of nonequilibrium systems. Universal scaling behavior is an attractive feature in statistical physics because a wide range of models can be classified purely in terms of their collective behavior due to a diverging correlation length.
Scaling phenomenon has been observed in many branches of physics, chemistry, biology and economy but most frequently by critical phase transitions and surface growth. This is a basic science topic and the results can be used in many of the applied sciences.
Nonequilibrium critical phase transitions may appear in models of;
The forest fire model is an example of Spatiotemporal intermittency in nonequilibrium statistical physics

Spatiotemporal intermittency
Population dynamics
Epidemics spreading
Catalysis
Itinerant electron systems
Cooperative transport
Enzyme biology
Biological control systems
Plasma physics
Stock-prize fluctuations and markets
Meteorology and Climatology
Universal scaling behavior in nature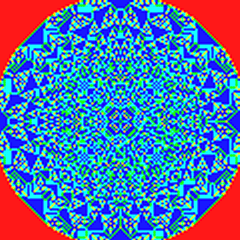 Self-organized critical (SOC) phenomena - Sandpile model
The concept of self-organized critical (SOC) phenomena has been introduced some time ago to explain the frequent occurrences of scaling laws experienced in nature. The term SOC usually refers to a mechanism of slow energy accumulation and fast energy redistribution, driving a system toward a critical state. The prototype of SOC systems is the sand-pile model (Pictured left) in which particles are randomly dropped onto a two dimensional lattice and the sand is redistributed by fast avalanches. Therefore in SOC models instead of tuning the parameters, an inherent mechanism is responsible for driving it to criticality. SOC mechanism has been proposed to model earthquakes, the evolution of biological systems, solar flare occurrence, fluctuations in confined plasma, snow avalanches and rain fall.
Diverging correlation length and scaling may also occur away from the phase transition point. For example in quantum matter, near absolute zero temperature, thermal equilibration can be obstructed in the case of topological ordered ground states, where only the slow dynamical relaxation of defective pairs, via annihilation-diffusion, can occur.
Universal scaling behavior at interfaces
Tumor growth following molecular-beam epitaxy class scaling behavior.
Rough surfaces and interfaces are ubiquitous in nature and, from a technological point of view, for the control of their roughness, is becoming critical for applications in fields such as microelectronics, image formation, surface coating or thin film growth. In the last number of years, there has been great interest in the description of the self-affine kinetic roughening of surfaces and their microstructure. Related topics are the depinning transition of elastic systems in disordered media and the wetting transition.
In application to parallel and distributed computations, the important consequence of the derived scaling is the existence of the upper bound for the desynchronization in a conservative update algorithm for parallel discrete-event simulations. Understanding the fundamental laws driving the growth of tumour's is one of the biggest challenges of contemporary science. Internal dynamics of a tumour reveals itself in a number of phenomena, one of the most obvious ones being growth.
Universality in complex systems
Among complex interacting systems, built up from particles, galaxies, animals, cars, money, web nodes, power-laws and scaling, fractals are common. Universality classes appear, determined solely by the collective behavior of their parts.
Examples appear at the critical phase transitions, where the correlation length diverges.
In equilibrium systems these classes are well understood. Standard classes are - role of symmetries, dimensions and boundary's.
We hope to extend this scenario for nonequilibrium systems and hope to classify these as universality classes.
The challenging binary production, diffusive pair contact process (PCPD)
Two absorbing states without symmetry, one of them is diffusive. Numerical methods show new exponents, but are controversial. No extra symmetries or conservation laws are found to explain it. Bosonic field theories also failed to describe this critical behavior. In the bosonic model the active phase particle density diverges. Fermionic models show different critical behavior, but perturbative field theoretical renormalization does not find a stable fixed point corresponding to the novel scaling behavior.
You can read more about the UC-Explorer application on the SZTAKI Desktop Grid website.