MalariaControl.net is the first of several planned projects on the Africa@home website, a website for volunteer computing projects that benefit African humanitarian causes. The malariacontrol.net project is an application that makes use of network computing for stochastic modelling of the clinical epidemiology and natural history of the malaria parasite (Plasmodium falciparum).
MalariaControl.net project URL; http://www.malariacontrol.net/
What is Africa@home?  
Africa@home
is a website
for volunteer computing projects which allow your computer to contribute to African humanitarian causes. There is a huge potential for volunteer computing to help solve pressing health and environmental problems facing the developing world.
AFRICA@home addresses these problems by providing a common framework for volunteer computing projects that focus on African needs. An important goal of AFRICA@home is to involve African students and African universities in the development and running of these volunteer computing projects.
 The Swiss Tropical Institute (STI) team from left to right:
Josh Yukich, Tom Smith, Wilson Sama, Amanda Ross,
Lucy Ochola, Nicolas Maire.
The first application being developed for AFRICA@home is called MalariaControl.net. This application models the way malaria spreads in Africa and the potential impact that new anti-malarial drugs may have on the region.
About MalariaControl.net
Simulation models of the transmission dynamics and health effects of malaria are an important tool for malaria control. They can be used to determine optimal strategies for delivering mosquito nets, chemotherapy, or new vaccines which are currently under development and testing.
Such modeling is extremely computer intensive, requiring simulations of large human populations with a diverse set of parameters related to biological and social factors that influence the distribution of the disease.
The Swiss Tropical Institute has developed a computer model for malaria epidemiology and harnessed its in-house PC capacity, about 40 machines, to do preliminary studies. But far more computing power is required to validate such models and to adequately simulate the full range of interventions and transmission patterns relevant for malaria control in Africa.
 MalariaControl.net screensaver
This is why MalariaControl.net has been created - to harness the volunteer computing power of thousands of people around the world, to help improve the ability of researchers to predict, and hence control, the spread of malaria in Africa.
Based on prior experience, it is expected that the MalariaControl.net application will complete in a few months - using thousands of volunteer PCs - a volume of computing that would normally take up to 40 years to complete on the computing power otherwise available to the scientists who developed the application.
Also based on prior experience, most of this volunteer computing power will come from the developed world - North America and Europe in particular. However, it is a main objective of AFRICA@home to involve African Universities and institutions in developing and running the applications that will run on the volunteer computers.
What is malaria?
Malaria is the world's most frequent parasitic infection. It is a potentially deadly disease transmitted by mosquitoes, living in hot marshy regions. At least 500 million people are infected each year in the world, resulting in more than a million deaths, mostly in Africa and in young children. Malaria kills one AFRICAN child every 30 seconds.
The malaria parasite (Plasmodium falciparum) is transmitted to humans by the bite of an infected female Anopheles mosquito, living in hot marshy regions.
Inside the human host, the parasite undergoes a series of changes. Its various stages allow plasmodia to evade the immune system, infect the liver and red blood cells, and finally develop into a form that is able to infect a mosquito again when it bites an infected person. Inside the mosquito, the parasite undergoes further transformation until it can again infect a human host when the mosquito takes its next blood meal, 10 to 14 or more days later.
Malaria symptoms appear about 9 to 14 days after the infectious mosquito bite, although this varies with different plasmodium species. Typically, malaria produces fever, headache, vomiting and other flu-like symptoms. If drugs are not available for treatment, or the parasites are resistant to them, the infection can progress rapidly to become life-threatening. Malaria can kill by infecting and destroying red blood cells (anaemia) and by clogging the capillaries that carry blood to the brain (cerebral malaria) or other vital organs.
Prevention and treatment of malaria
Many antimalaria drugs may be used prophylactically (as prevention  for travellers in endemic zones, as preventive intermittent treatment in pregnant women) or therapeutically. The best known are chloroquine and quinine.   Mefloquine is used in regions  where chloroquine-resistant parasites are found.
Conventional antimalarial drugs used as monotherapy (single-drug treatment) rapidly lose their effectiveness due to the rapid development of drug-resistance. In certain places, malaria is found to be resistant to all inexpensive first-line therapies (cross-resistance). However, the development of new and affordable molecules to replace those which become inefficient, is poorly supported.
Over the past decade, a new group of antimalarials, in combination  with derivatives of artemisinin (extracted from the plant Artemisia annua), produce a very rapid therapeutic response  (resolution of symptoms and potential reduction of malaria transmission). To date, no parasite resistance to these compounds has been detected. The use of such "artemisin-based combination therapies" can greatly retard development of resistance to the partner drug.
With the combination of artemisinin and a synthetic drug, two substances with different modes of action, it appears unlikely that a parasite, able to rapidly develop resistance to conventional monotherapies, could evolve to develop  resistance to one of the components of these combinations.
Most malaria-carrying mosquitoes bite at night. Mosquito nets, if properly used and maintained, can provide a physical barrier to hungry mosquitoes. If treated with insecticide, the effectiveness of nets is greatly improved, generating a chemical halo repelling mosquitoes.
Socio-economic impact of malaria
In many developing countries malaria appears to be the enemy No 1 in public health. Numerous African countries do not have at their disposal the infrastructures and resources necessary to organize sustainable antimalaria campaigns.
In Africa today, malaria is understood to be both a disease of poverty and a cause of poverty. Economic growth in countries with high malaria transmission has historically been lower than in countries without malaria. Thus, malaria represents a serious burden on economic development.
Economists believe that malaria is responsible for a growth penalty of up to 1.3% per year in some African countries. Malaria may account for as much as 40% of public health expenditure, 30-50% of in-patient admissions, and up to 50% of out-patient visits. Malaria has been estimated to cost Africa more than $US 12 billion every year in lost GDP.
Malaria has a great impact on Africa's human resources. Not only does malaria result in lost life and lost productivity due to illness and premature death, malaria also hampers children's schooling and social development through both absenteeism and permanent neurological damage. African countries, aware of the economic consequences due to malaria, now devote more resources to the antimalaria struggle, as a major element of poverty-reducing strategies.
Perspectives for a vaccine
A major difficulty in the development of a vaccine against Plasmodium is the fact that the parasite undergoes a succession of changes during its life, with phases of intense asexual multiplication in human and a phase of sexual reproduction followed by multiplication in the mosquito. Each stage ends with the liberation of a parasite of different form, with different antigens, inducing different immune responses.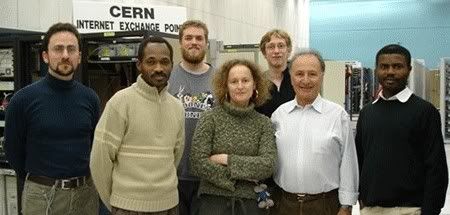 The CERN/Africa@home team from left to right: Francois Grey, Bakary Sagara,
Christian Søttrup, Rosy Mondardini, Jacques Fontignie, Ben Segal, William Kamden.
Today, many laboratories are involved in the elaboration of vaccines against malaria. Various vaccine candidates are in the pipeline.  Tests made on children under five in Mozambique to evaluate the efficacy of an anti-malaria vaccine candidate developed by GlaxoSmithKline Biologicals (The Lancet, 16 oct.2004), have shown encouraging results, such as a significant reduction of infection rate in the population under test during the test period. This vaccine was well tolerated.
Video about the malaria parasite (Plasmodium falciparum)