PS3GRID is a supercomputing infrastructure made of many individual PlayStation3 and NVIDIA graphics cards joined together to deliver high performance, full atomic, bio-molecular simulations of protein dynamics and protein association. This will ultimately lead to increased knowledge of disease and in particular, proteins related to Alzheimer disease.
PS3GRID project URL; http://www.ps3grid.net/
About PS3GRID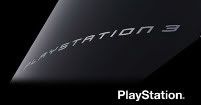 The computational power of graphics hardware is much higher than standard processors due to the large amount of calculations which are required to display realistic three-dimensional images.
This is achieved by a design and programming style change (see CUDA). A conventional processor dedicates a relatively large fraction of its transistors to complex control logic, to maximise performance of a serial code. The Cell processor contains 8 fast Synergetic Processing Elements (SPEs) designed to maximise arithmetic throughput. Graphical processing units (GPUs) devices have a very large number of slower cores maximizing parallel throughput.
For example, just ten thousand volunteers provides the computational power of the largest supercomputer on the planet for certain specific applications.
Science: Molecular experiments
For more information or if you need to contact us write to Gianni De Fabritiis (ps3grid at gmail dot com). Also, visit our lab home page MultiscaleLab. We are located in the Computational Biochemistry and Biophysics Laboratory , Research Unit on Biomedical Informatics (GRIB) at University of Pompeu Fabra, within the Barcelona Biomedical Research Park (PRBB).
Molecular simulations of Triose Phospate Isomerase (TPI) enzymes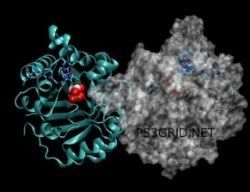 This work unit investigates the conformational differences that arise when TPI enzymes undergo tyrosine nitration as a consequence of inflammation, defective mithocondrial respiration and oxydative stress. Work units last around one day and must completed before 4 days.
FORWARD-REVERSE STEERED MOLECULAR DYNAMICS
Potassium ion permeation in Gramicidin A
We are giving work units comprising full-atom simulations of gramidicin A for ion transport, a total of 30,000 atoms. Each work unit lasts less than one day and you have to complete it before 4 days. See this shot image style Movie.
MultiscaleLab - PS3GRID's Laboratory
The multiscale laboratory is a group of researchers with common interests in the range of physical phenomena produced by the interplay of different scales, for instance between single molecules and collection of them (mesoscale). Multiscalelab is hosted at the Barcelona Biomedical Research Park (PRBB).
We study protein dynamics and association using mainly gaming hardware as Playstation3 and Nvidia graphics cards. One of our most important project is called ps3grid.net. Via a computational study of proteins we can help experimental scientists to understand at a more fundamental level the mechanisms that produce certain outcomes in an experiment. This help designing further experiments and ultimately increase our knowledge on a disease. We are particularly interested in proteins related to Alzheimer disease.
RNA to Protein Synthesis
While this video is not directly related to the PS3GRID science, its still pretty cool. It explains a small bit about protein synthesis and RNA.
.