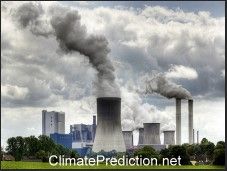 As we near the end of the first decade of the 21st century, Myles Allen, principle investigator with the Oxford University ClimatePrediction.net project asks the question: Will CO2 emission rationing ever be enough?
Energy and Climate: from basic physics to intergenerational equity
Looking at a 1:10,000-trillion scale model of the problem. 50 grams of coal represents 0.5 "trillion tonnes of carbon" (TtC). Burning 0.5 TtC and releasing the CO2 causes approximately 1ºC in global warming.
We started off with 10 "Global Warming Units" (GWU).
1 GWU already burned since 1750.

1 GWU = conventional reserves of oil and gas.

5 GWU = conventional reserves of coal.

3 GWU = unconventional reserves (tar sands etc.).
Predicted temperature rise to 2100
Image: UK MET
It took us 250 years to use the first GWU. On recent and projected emission trends it will take approximately 35 years to use the next GWU. Less than 30 years to use the next one and less than 20 years to use the next one after that.
Will we burn that much carbon?
50 grams of coal is equal to 0.5 Mega Joules of electrical energy, or the Energy content of a 1 kilogram Lithium battery fully charged, or 50 litres of hydrogen gas at room temperature and pressure, or the output of a 1 meter squared solar panel over 1.5 hours in bright sun. At $100 per billion barrels, each GWU is worth $350 trillion, minus the cost of extraction. That's 5 times the current world annual output of goods & services. So will alternative energy sources make GWUs 3 to 10 economically unattractive before we use them? The implications of burning these fossil fuels could mean an increase in summer temperatures of 3 to 4ºC over the next 80 years.
So where is this going and what can we do about it?

 Dr. Myles Allen, principle investigator with the Oxford University ClimatePrediction.net project
Climate change is a probably already having a substantial impact on human societies and natural ecosystems, and it will become more severe as time goes on. So what will it take to avert dangerous climate change? Up until now, the key driver of climate change has been greenhouse gas levels. Over the coming century, carbon dioxide emissions will be the main driver of climate change.
So what should we be doing about it?
The standard model of governmental climate change policy can be broken down into 3 parts:
Intergovernmental assessments of the overall net "cost".

Technically devised "optimal" global emission rates.

Negotiated national emission quotas.
The problem with this is that the net cost is largely irrelevant and disturbingly subjective. Annual emission rates are incidental to overall damage caused and national quotas don't have a great track record as we have seen in the past with putting quotas on fish catches.
Modeling future climate
You probably have the impression that the only way to forecast future climate is with fiendishly complicated models run on vast supercomputers, but this is only partly true. It is certainly true if you want to say something useful about flood risk in Oxford. But it isn't true if you want to get a feel for what drives global temperature.
Predicted sea-ice extent out to 2100
Image: UK MET
Some of the constraints involved in modeling climate change include global warming attributable to greenhouse gases over the 20th century, effective ocean-troposphere-land heat capacity, CO2 airborne fraction, and the rate of transport of active CO2 in the deep oceans.
So it seems that the Kyoto treaty is simply not enough, but what will it take?
We can generate idealized CO2 emissions scenarios and vary the conditions in our model automatically. We can vary all the uncertain parameters in the model and compare them with observations to give more weight to more plausible parameter combinations. Then we can plot the results and see what we come up with. Peak warming will be determined by the total amount of carbon released into the atmosphere.
Will CO2 emissions rationing ever be enough?
By trying to set limits on the amount of CO2 emissions will have very little effect on the overall bigger picture. To stay below 2ºC, the "safe" atmospheric capacity is approximately 1 TtC, half of which has already been emitted. If we divide the atmospheric capacity by the current fossil fuel mix, the carbon content of 15% of conventional oil & gas reserves (60 GtC), 95% of conventional coal reserves (2.3 TtC) and 100% of unconventional reserves (1.8 TtC), needs to stay out of the atmosphere forever. Worth keeping in mind that we didn't save the ozone layer by rationing deodorant!
Ensuring we do not exceed the atmospheric capacity: the concept of SaFE carbon
What is SaFE carbon?
Sequestered

at-time-of

Fossil

Extraction
SaFE carbon is a supply that ensures we never exceed the atmospheric capacity. SaFE carbon can be defined as S=(C/C0)α where;
S = fraction sequestered, including compensation for leaks.

C = Cumulative emissions from the time policy is adopted.

C0= Atmospheric capacity at the time policy is adopted.

α = positive constant.

C0 and α define the policy: little wriggle-room.
Saving the trillionth tonne
In the build-up to the next Conference of the Parties to the Kyoto Protocol, in Copenhagen in December, there will be a lot of rhetoric about cutting green house gas emissions 20% by 2020, or 50% by 2050. But how much we reduce our emissions by a given date is incidental to the overall risk posed by climate change. There is plenty of scope for muddling cuts in short-lived greenhouse gases with cuts in CO2. What really matters is the total amount of CO2 we release or whether we burn the trillionth tonne. How could Oxford help: Maybe we could buy the trillionth tonne!
For more information or to get involved in the ClimatePrediction.net project, visit the website here; http://www.climateprediction.net/
BBC Meltdown Documentary - climateprediction.net Project