World Community Grid has launched the Help Fight Childhood Cancer project by the Chiba Cancer Center Research Institute in Chiba prefecture, Japan. The mission of the Help Fight Childhood Cancer project is to use World Community Grid to find drugs which can disable three particular proteins associated with neuroblastoma, one of the most frequently occurring solid tumors in children.
Finding drugs to disable these proteins would potentially make the disease much more curable with chemotherapy. Neuroblastoma is one of the most common tumors in early childhood and often leads to death.
If this project is successful, it could dramatically increase the cure rate for neuroblastoma. World Community Grid may provide the breakthrough for this disease that has eluded scientists thus far.
Chiba cancer research team
Dr. Akira Nakagawara - director or the Chiba cancer research institute
Tyuji Hoshino - Associate professor
Yutaka Tamura - Associate professor
Radio-Exercises by Masaki Mishina
Painted at the age of 5 years and 9 months
Passed away at the age 7 years and 3 months
- Acute Lymphoblastic Leukemia
Proteins are the building blocks of all life processes. They also play an important role in the progress of diseases such as cancer. Scientists have identified three particular proteins involved with neuroblastoma, which if disabled, could make the disease much more curable by conventional methods such as chemotherapy. World Community Grid is performing virtual chemistry experiments between these proteins and each of the three million drug candidates that scientists believe could potentially block the proteins involved. A computer program called AutoDock will test if the shape of the protein and shape of each drug candidate fit together and bond in a suitable way to disable the protein.
This work consists of 9 million virtual chemistry experiments, each of which would take hours to perform on a single computer, totaling over 8,000 years of computer time. World Community Grid is performing these computations in parallel and is thus speeding up the effort dramatically. The project is expected to be completed in two years or less.
Lion by Morito Iokawa
Painted at the age of 5 years
Passed away at the age 6
- Acute Lymphocytic Leukemia
Neuroblastoma is one of the most frequently occurring solid tumors in children, especially in the first two years of life, when it accounts for 50% of all tumors.  Neuroblastoma comprises 6-10% of all childhood cancers, and 15% of cancer deaths in children.  It is the second most common cause of death in children, only preceded by accidents. The cause of neuroblastoma is unknown, though most physicians believe that it is an accidental cell growth that occurs during normal development of the adrenal glands and sympathetic ganglia.
The rapid advancement in genetic research on cancer holds great promise for treating neuroblastoma.  Genes linked to various cancers have been found, and researchers are currently developing effective therapeutic drugs aimed at some of the important molecular targets.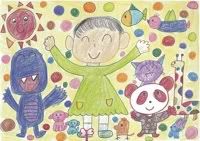 Pink seeds by Ami Okano
Painted at the age of 9 years, now age 17
- Cerebellar medullo blastoma
The project's researchers are using computational methods to identify new candidate drugs that have the right shape and chemical characteristics to block three proteins – TrkB, ALK and SCxx, which are expressed at high levels or abnormally mutated in aggressive neuroblastomas.  If these proteins are disabled, researchers believe there should be a high cure rate using chemotherapy.
The Help Fight Childhood Cancer is the twelfth research project to be launched on World Community Grid and one of seven projects currently active. The other six active research projects are: Help Conquer Cancer (launched November, 2007), Discover Dengue Drugs – Together (launched August, 2007), Human Proteome Folding - Phase 2 (launched July, 2006), FightAIDS@Home Phase 2 (launched November, 2005), Nutritious Rice for the World (Launched May, 2008) and The Clean Energy Project (launched December, 2008).
World Community Grid project; http://www.worldcommunitygrid.org/