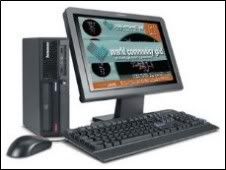 Don't throw out your old PC just yet - for just a few tens of pounds in electricity a year your old machine can crunch BOINC projects permanently, and thanks to wireless networking and the BOINC remote client feature, you can shove it anywhere within range of your access point and remotely administer it.. You don't even need a monitor attached to it, except for when doing maintenance or troubleshooting. And the heat output of my machine is not wasted either - it stops my tools rusting, in tandem with the freezer I have in there!
This is a great video that tells you how to get an old computer running BOINC
Main points:
Any currently-supported operating system is fine for running a BOINC client. An older one is better because it is less of a resource hog. Except for hardware drivers, antivirus and firewall programs, leave it as bare as possible and uninstall any unneeded programs and services.

Remove or disconnect all the peripherals - optical drives and plug-in cards. These things use power even if they aren't doing anything.

A diskless setup using a plug-in USB memory stick for the OS and programs is ideal - hard disks use a lot of juice. Most BOISes support bootable USB storage devices.

Install adequate memory (at least 512MB) and DISABLE virtual memory if using a flash memory drive. Use of virtual memory on a flash drive due to inadequate amounts of RAM will kill it fast.

Note that some projects require greater system requirements than the bare minimum for the BOINC client. This is something to bear in mind if your machine is quite antiquated.

The older your machine is, the LESS work it will do per KWH to crunch BOINC projects. In other words the law of diminishing returns applies, and a really old machine is probably better being recycled than put to work."