Help us to promote BOINC and spread the word!
We need your help to promote BOINC and all the projects that use BOINC. Anyone in any part of the world can help promote BOINC and the projects whether you're a Dallas DWI attorney, an Istabul veterinarian or a London housekeeper. One of the best ways you can help spread the word is to display a button or logo on the front page of your team website, your blog, MySpace, BEBO, MSN or any website you are involved in. You can also help by displaying a logo or banner in your forum signature on forums and message boards. You can also use these images in your email signature when you email friends, family and work mates.
Below is a collection BOINC promotional images, logo's and buttons. Beneath each image is a box with the BB code for forums and message boards, and the html for displaying these images on websites. Just copy and paste the code for the image your want!
BB code for forums and message boards
html for websites
BB code for forums and message boards
html for websites
****************************************
BB code for forums and message boards
html for websites

BB code for forums and message boards
html for websites
****************************************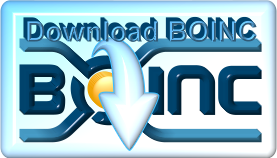 BB code for forums and message boards
html for websites

BB code for forums and message boards
html for websites
****************************************
BB code for forums and message boards
html for websites
BB code for forums and message boards
html for websites
****************************************
BB code for forums and message boards
html for websites
****************************************


BB code for forums and message boards
html for websites
BB code for forums and message boards
html for websites


BB code for forums and message boards
html for websites
BB code for forums and message boards
html for websites
****************************************
BB code for forums and message boards
html for websites

BB code for forums and message boards
html for websites

BB code for forums and message boards
html for websites
BB code for forums and message boards
html for websites
****************************************


BB code for forums and message boards
html for websites
BB code for forums and message boards
html for websites

BB code for forums and message boards
html for websites



BB code for forums and message boards
html for websites
****************************************