The BOINC Manager is a 'control panel' for BOINC. It provides a graphical interface for monitoring and controlling the BOINC Client (which is sometimes also called the "core client"). The Manager is a separate program and does not have to run all the time. The BOINC Manager can also be used for remote control of a BOINC Client running on another computer (if the client on that computer allows that).
Newer installations of BOINC show the BOINC Manager in the Simple view. Advanced users can switch to the Advanced view to access additional functionality.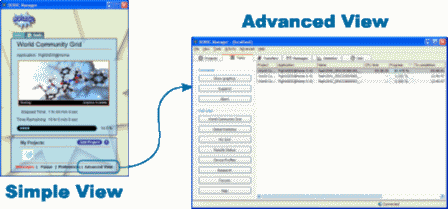 Starting the BOINC Manager
The BOINC Manager can be launched like any other program, from the Start menu in Windows. If you chose the installation option to start BOINC automatically, then the Manager will already be running. You can access it through the icon in the notification area or Dock.
The BOINC Manager icon and menu
The icon menu choices are:
Open BOINC Manager: opens the current BOINC Manager.
Snooze: stop work (computation and file transfer) for one hour or until you cancel it. See also Activity menu.
About BOINC Manager: displays useful information about the BOINC Manager.
Exit: exit the BOINC manager and all running BOINC applications. No further work will take place until you run the BOINC Manager again. (On Mac OS X, this menu item is called Quit.)
Windows
On Windows, the Manager is represented by an icon in the notification area.
Double-click on the icon to open the BOINC Manager window.
Right-click on the icon to access its menu (shown below).
Hovering over the BOINC icon will display a status balloon which contains the project it is currently working on, how far along it is, and which computer it is connected to (Windows only).
Mac OS X
On Mac OS X, the Manager is represented by icons in both the menubar and the Dock.
Click on the icon in the menubar or Dock and hold the button down until the menu appears.